Hello and Welcome.
Salisbury Model Centre's web site is now no longer focused on online selling- there are enough web shops already out there doing that. Instead I hope you'll find these pages of general modelling interest. You'll find lists of new arrivals in store and you are welcome to telephone the shop to order or reserve an item or make general inquiries. More detailed reviews of kits and accessories will also be  posted here or on 'you-tube'. Non modelling information that is of interest will also be posted such as Steam visitors to Salisbury or news and manufacturer announcements.
TRADE NEWS (last edit 03 08 23) :click here.  EVENTS :
click here.
  REFERANCE PHOTOS :
click here.
click Facebook, notices and wider updates. click to view SMC videos.
 Dec 1 2023
Change in opening hours for December, now open Mondays and late night Thursdays.
Aug 3 2023
with Bachmann's autumn release announcement yesterday the the two stand out items were the Class 158 in both OO and N Gauges.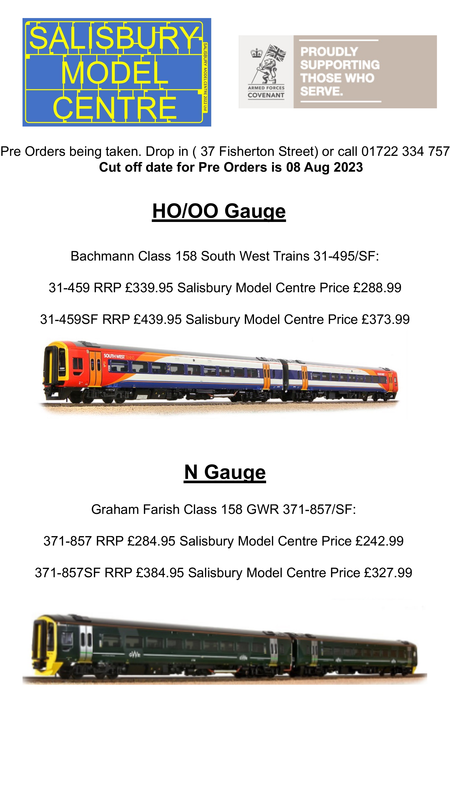 May 23 2023
In December 2022 Salisbury Model Centre became a signatory of the Armed Forces Covenant, this was a no brainer really and formalised what the shop currently does for the Armed Forces Community. 
We have pledged the following:
Promoting the Armed Forces: Promoting the fact we are an Armed Forces friendly organization to our staff, contractors, suppliers and wider public.
Wellbeing support to members of the Armed Forces Community: As a Models For Heroes volunteer, I run a bi-monthly on line modelling session. The shop also provides a drop off point for any kits or modelling equipment for Models For Heroes.
These are just a couple of things we do at Salisbury Model Centre for our Armed Forces Community.

May 19 2023
Its been something I meant to do in January. I thought it was about time I introduced myself, I'm Oz and I took over the tillers from Dec at the end of November 2022. You may have seen me in the shop as I was shadowing Dec from the start of June 2022, this period of transition has set me up for success. I would personally like to thank Dec for all his help.
Who am I? well first and foremost I'm a plastic modeler mainly 1/35 Armour with the odd Aircraft build.
My first build memory was watching my father and being allowed to stick the odd part on an Airfix Short Sterling. Then from the age of seven or eight I was building my own kits, with added glue fingerprints and misted canopys adding more Humbrol paint splashes to the dining room table.
I then needed a full-time job to pay for my model habit, similarly to Dec I decided to take a career in the Military I chose to fire big rockets out of MLRS. This took me to a number of interesting places and allowed me to visit Model shops around the world. I then moved to flying role within the Royal Artillery using Unmanned Aerial Vehicles (UAVs) or drones as they are more commonly know as, this took me to some more interesting places many without model shops. Flying various types of UAV, some from the comfort of an air condition box (often to cold) and others out under the baking sunshine. 
During this time my model making slowed right down with constant deployments but It was during this time I really got into building Amour and building dioramas.
In 2017 I met this chap called Malcolm Childs who was starting an organisation called Models for Heroes, to assist serving and veterans of both the Armed Forces and Blue light services with therapeutic model making sessions around the country. It just so happened the first sessions were at Tedworth House, which I went along too providing mentorship to a sessions as a lot of those attending had never built a kit. 
A career highlight was being recognised in the Queens Birthday Honors in 2020, I was awarded the Meritorious Service Medal. One of the only awards where the post nominals (letters after your name are not used).
Taking over the shop started off as a bit of a joke, I was helping Dec load some stock into his Landrover after a Model show and said that owning a model shop would be my dream job. Which he replied really, I went home and talked it over with my wife Rebecca who said that sounds like a great idea. As I got closer to leaving the Military Dec and I sat down and had a serious chat about it and took over in November 2022.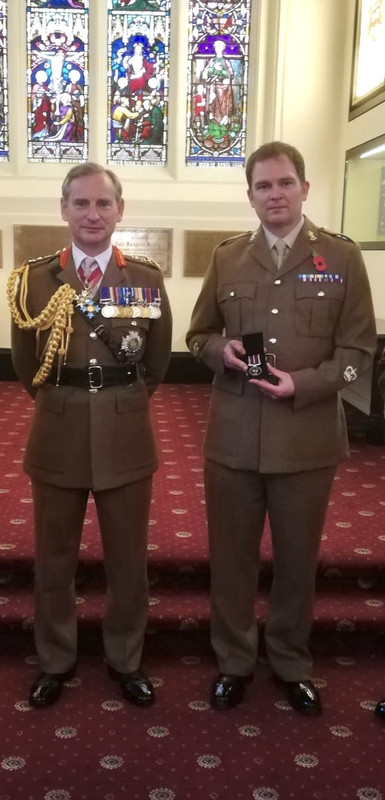 January 02nd 2023
Looking forward to being open again on the 3rd. I hope you have all had a great festive break. The shop is expecting deliveries from tomorrow onwards so paint and glue stocks will be good. There are some price rises that we held off from last year on a couple of paint lines. Sorry but that is the climate of the day. Happy New Year , Oz

November 21st 2022

I have to write that for me, today was a big day and a slightly sad day too. I have sold Salisbury Model Centre (SMC) to Clive, whose picture below you may recognize. As well as working along side me for much of the last 12 months he is also an Ambassador for 'Model for Heroes' and has regularly been snapped collecting boxes of kits generously donated in store to the charity. Clive (more commonly known as Oz) has in some way mirrored my path in becoming the Owner/Manager of SMC having left the Army earlier this year. He too is a model enthusiast and has for a number of years supported the efforts of 'Models for Heroes' , providing injured service personel as well as those from the emergency services who have suffered trauma or mental issues with a creative outlet and a forum for social connection through the hobby of model making. He has also been delving into the world of model railways, a steep learning curve. I am however sure that the great customers I have got to know over the last 12 years will help his Railway knowledge expand, and I have met some wonderful people so I am glad to say I will still be assisting Clive in the shop part time so in some ways things will seem very much the same as normal and my corny humour can still be relied upon to cause painful laughter.

Oz has already met many of you but please welcome him warmly when you next come by. He has spent over 22 years in the Army but is as keen as I was to make running the hobby shop a success.  As I reflect on what has been a very enjoyable 12 years (but only feels like half that amount of time) I do feel some pride in navigating the business through the Novichok scare that Salisbury endured, The Lockdowns brought about by Covid, the £5000 worth of damage caused by a shop visitor pulling a display cabinet over and the joy of finding drunks smashing the shop window, not to mention customers having heart attacks on the premises. Even buying the shop back in 2010 after the worst recession that the UK faced since WWII was a risk that certainly 'tested my metal' (working nights at a Fish farm in Fordingbridge helped me meet the challenge of getting the shop up and running, but was not what I'd call fun and did 'burn the candle at both ends'). I was worried that running a small independant shop would be a bit tedious after serving, as that list shows; it wasn't. I appreciate the help I received from David H at the beginning, he really broadened my Railway knowledge, as did Paul S and Nigel C with their insights. It has been a joy, so why you may ask have I decided to sell up?...read on.
I have never let my health or that I suffer from Von Hippel Lindau syndrome (VHL) effect anything, in fact to get on in my Army career I did my best to play it down. As a 30 year old serjeant* when I first discovered I had the hereditary genetic deficiancy VHL**, I had at least proved I was capable of doing my job and had friends in higher places who helped me along the way (on paper I'd not have been allowed to join up) until I finally left after 22 years to embark on a civilian career as a shop keeper. Now 23 years after that first brain tumour was discovered and having had a total of 11 brain, 9 kidney, and 2 eye tumours removed it is time to future proof the shop as I know that further operations are due. The last thing I want is for Salisbury Model centre to suffer due to me being otherwise occupied.  The fact that Clive was coming to the end of his career as I was starting to look at future options was fortuitous and I could not have asked for a nicer person to have shown an interest in running the shop.
Now the preceding information may sound a bit tough but it is no more or less what every family has to deal with in some shape or form. My daughter sumed it up after she had her first brain tumour removed last year (as said- VHL is hereditary and i'd passed it on to Sophie who many of you know from her time working in the store). Her positive attitude to recovery saw her pledge with in a week of surgery, then exactly a year later complete, the 3 peaks challenge in one weekend then do the Spartan 5k the following, raising over £3000 in the process (thank you all who contributed, amazing).  You can no doubt sense my pride. And that brings me to the perfect ending for this blog. As well as being thankful of all the customers that have passed through the door and supported us I want to thank my family. I always felt the business was a family affair right from the begining when Sophie and Aaron worked Saturdays (not as child labour as they often vocalised). For me after spending so much time away from my family whilst in the Army it was nice to have my son and daughter spending time with me and seeing them grow in a working environment.  One of my funniest memories is being told by Aaron's school that he couldn't do work experince at SMC because I was his dad (after he'd already been working there for a year). And of course Tammy who not only gave me the support all husbands crave from a wife, but practically too, running the shop while I was selling at shows or slaving over returns for HMRC. Thank you all.

*Serjeant with a 'J' was the widely used spelling of the word in the British Army up until 1914 and the First World War.  'G' spelling became the more common official one in the 1930s.
The use of the 'J' spelling was preserved in the King's Own Yorkshire Light Infantry, Durham Light Infantry, Oxfordshire and Buckinghamshire Light Infantry and Rifle Brigade. After amalgamations, this tradition was carried on by The Light Infantry and elements of the Royal Green Jackets. It is from these that the tradition of the 'J' has been continued by The Rifles today.
March 1st 2021  A year ago the Covid menace was becoming reality. No-one could have predicted what was to unfold over the following year.  Shop wise it has been difficult in places but I'm hopeful that careful management will be the key to ensure we survive and keep on top of new releases so when we reopen we will have full shelves of new releases. That was my plan during the 2nd (November 2020) lockdown and that met with success, fingers crossed i'll get it right in 2021.
No excuse for not having some time to devote to the Blog pages and I wanted to write about something other than Corona Virus as I am also sure you'd rather read about anything other than Covid!
Being the owner and manager of Salisbury model centre for over 10 years I'm still surprised to be asked how I became a model shop owner. With all the time available in lockdown I thought a decent Blog update could be in order but my answer I fear wouldn't make much of a story- 'Man buys shop. Man runs shop. The end'. However, on reflection my journey is perhaps far more interesting than might have been expected.
Probably, like most readers my exposure to modelling was at a young age but not over a table with my dad or as the result of a gift, my introduction to plastic kits started much differently.  In the mid 70's me and my younger brother were taken into care as a result of my mother dying. My dad being blind, struggled to cope. We'd be reunited as a family in less than 2 years but that time was to be pretty tough and not filled with much happiness especially as being some of the youngest kids in the care home we were easy targets for the bigger boys. One older kid was a curious interest though, not only was he of mixed race (a rarer thing in the 70's and the first I had seen) but he had a hobby, making plastic model kits.  They were kept in a cupboard in the hall, none were painted but on occasion I got to see his collection which was fleeting as he was a teenager so not too interested in conversing with a 6 year old. They left an impression and I vowed to save the small amount of pocket money we received weekly to buy one.  In all the time we spent in the care home I managed to save enough to buy a Matchbox Mig 21 resplendent in multi coloured plastic. Not that I could actually build it at the time, lacking glue and preparing to return to the family home.   This could not come soon enough as the care home was a scary, oppressive place and I recall during the last weeks there hearing  the fire alarm go off due to the thick smoke coming from the cupboard. The 'lord of the flies' mentality of the institution had caught up to the 'black model maker' and someone had set fire to his collection.
My Grandparents collected me and my brother to drive us back home to our father and in the way grandparents do gave us both a gift. Having spoken about these amazing models I'd seen when they had visited it was no surprise to be given an Airfix Triceratops model dinosaur.  Still no glue but already a stash starting.  The first model to be built though was yet to come.  For my dad to be able to have his kids at home as well as continue working (as a telephonist in Westminster) he employed house keepers who would take on some of the responsibilities that a mother would normally do such as cleaning and cooking. One lady who was I think of Polish origin knew the name of one aircraft – the Hurricane.   I was delighted therefore to find a Matchbox Hurricane on sale at my local newsagent and bought it straight away along with glue. My first build began.
Over a decade later at 19 I joined the Army, I'd still dabbled in model making until leaving home but like most teenagers not been overly active as the doors to adulthood beckoned.  I did have a small stash, maybe 8 kits that got shoved into my dad's loft and forgotten for the next 7 years.
That should have been it.  A new life in the Army and getting a girlfriend are not conducive to sitting and diligently making plastic kits. Especially as a young infantryman about to start a 2-year tour in Northern Ireland with Maggie Thatcher just ousted as prime minster, the fields and villages of County Tyrone were still a tense place to be. Our Camp was large but still fortified with sangers at the gates and limited access allowed outside with a camp pub and Naafi the expected locations for social activity.  Several events restarted my interest in modelling.   Squaddies like a drink, but I had decided to get married and was saving money, spending on alcohol would not send a great message to the future Mrs Sibley. Model making became a better alternative use for my down time.  At that time I also dropped a bollock and was busted, losing my newly earned LCpl stripe, and was moved from Rifle company to Support Weapons Company, a blessing in disguise because I chose to become a MILAN* operator, and my knowledge of Armoured Fighting Vehicles (AFV) gained through the building of kits from the likes of Tamiya put me ahead of the pack in some regards.
This was a time before the internet, and getting magazines sent to a BFPO address not particularly reliable so it was not easy to learn new techniques, but I noticed in myself an improvement and change in application when it came to building and finishing models from when I'd last done it as a teen.   Visiting shows such as Alexander Palace in London became possible and that was an eye opener. So now I'd regard myself as an enthusiast, with a low turnout of models but with a decided interest in the subject. Constant moves and being separated from home (I ended up doing 16 years unaccompanied in total) restricted my clutter allowance which really did keep out put in single figures. The Mess accommodation didn't leave much room for paints and stacks of unbuilt models.
Although a Londoner I now thought of Wiltshire as home after 5 years overseas.  My wife, me and pending family put roots down by purchasing a private home. Having my own home meant some hobby indulgence could take place even if output was still less than one completed kit a year.  That didn't stop me being an avid purchaser, initially from a small model shop in Amesbury or the home ware shop at Bulford Military Camp (both gone before the 90's ended) and then as the 20th century ended from a model shop in Salisbury.
Salisbury Model Centre (SMC) has a long continuous history that could make a full article in itself as it has moved location and been at the centre of arson skulduggery as well as changing hands.  I'd first become aware of it when it was run by 2 gentlemen at its current location on Fisherton street.  One of these men, David Grove I would later come to know better but as the decade progressed; I was out of England as much as home so visiting model shops was not a regular occurrence.  I did note that Salisbury Model Centre was being run by a new younger family on a visit in 2007 but paid it no thought as my immediate prospects centred around deploying to Kosovo in the Balkans and then our Battalion was to be sent to Helmand Province in Afghanistan in the spring of 2009.
Perhaps due to the significance of my next shopping trip to SMC I can recall my purchase (which to this day 13 years later has not been built yet- sound familiar?).  I'd reserved a 1/24 Land Rover kit, the Esci one that has become part of Italeri's range and on return from Kosovo popped in to collect it.  The owner was present and started chatting about where I had been and what the future held.  He then asked if I would be interested in purchasing the business.  This was 2008 and I still had 3 years' service left although I knew the last 6 months wouldn't account for much and the remainder of 2008 and beginning of 2009 would be focused on all things Afghan.  That run-out date sounded like a long way off, yet I had nothing lined up once my 22 years of service finished.  I had been offered a Commission but with strings attached as my health was suspect due to suffering from brain tumours with all indications that another significant operation in the near future was likely (and indeed correct as I had 3 tumours removed December 2009, just over a month before taking over the Shop).
I threw my hat into the ring and said 'yes' I would be interested.  The following paragraphs could easily become an account of the to-ing and fro-ing that turned a stated interest into the reality of ownership.  It would make sad and frustrating reading as my naivety, lack of time in the UK and sense of responsibility led to all manner of mistakes and wasted time and money.  But on my side was a true love of the hobby and an ethic not to fail.  That meant that despite being in recovery from a major operation on the brain, completing purchase in 2010 as Britain entered the worst economic recession it had seen for a over a decade, finding that a competitive model shop had opened in Salisbury 18 months before without my knowledge ( but clearly the knowledge of the seller), and still having to return to Northern Ireland to oversee the welfare of injured soldiers from the just completed Herrick 10** I was determined to keep at it and make it into the sort of model shop I'd like to have had on my doorstep when growing up.
It wasn't just the learning curve was steep; the physical commitment was staggering and the support of my wife and kids immeasurable in helping my get to grips with my future.  Due to having to take on the vitally important role of running the Battalion's Recovery Unit – basically co-ordinating with medical and physio specialists who would deliver the individual requirements to each soldier whose recovery from injury (ranging from partial sight loss to missing fingers to memory loss) had advanced enough to leave hospital care but not yet ready to be released from the Army. Therefore, I also had to liaise back to the UK mainland to each soldier's home county to find out what the recovery teams in that area had in place for the returning soldier such as wheelchair access or visual aids. This extended to trying to find possible employment.  Sadly, the pressure was also increased due to the Battalion being drawn again for an Afghanistan tour the following year. Having injured personnel on the same camp as soldiers training to go back onto operations is not good for moral.  I met some great people and it was good to see so much effort put into every single disadvantaged soldier, yet it was probably never enough and despite the MOD's early promise that every soldier injured that could still be found work within his unit being guaranteed a job and continued career, the rising numbers meant that was impossible to deliver.  
I had expected my last 9 months in the Army to be 'Gardening leave' instead I was working harder than ever on a job that also dug deep into emotional commitment and time. As soon as 16.00hrs on a Friday arrived I'd jump into the unit transport and be driven the hour trip to Belfast Airport before flying into Southampton getting home late at night in order to be able to open up the model shop Saturday morning and serve the customers as well as try and learn the ropes. After the day's end it would be a cosy (or stressed, it depends who you ask) evening with the family before catching the Sunday 16.00 flight from Southampton to Belfast.  The weekdays would be covered by a staff member while I concurrently ran the shop website.  And that's how things continued until I formally left Ireland for England and started to be released from service.  At least now I was fully able to focus on the new stage of my working life, the rest as they say is history, and while the next 10+ years brought their own stories perhaps this a good place to finish. 
*MILAN, a man portable missile system used by the Infantry in the antitank role.
** Herrick 10. Operation Herrick was the code name for operations conducted in Afghanistan, 10 being the designated number that 2 Rifles deployed to that ran April to Oct 2009. 
February 2019
Already i've doubled the posts on my Blog from last year.  Having a 'snow day' helps. I'm stuck at home, so using the time well.  I could get into the shop as my Landrover is capable, and this time last year it proved itself by getting me home after the snow came down heavy.  It was the day of Mr David Groves (Endless Models) funeral and on leaving the Crematorium the snow was already pretty deep so I offered to take some mourners home. After a few drop offs it became clear that while I could traverse the snow covered roads, the main problem was blocked routes by cars that couldn't or jack knifed lorries.  I was forced to take the Avon River route through Durnford that took a lot longer, and resulted in a few hairy moments as the snow was so deep a bench that was completly hidden from view became an obstruction as I pulled over to let another 4x4 pass. It didn't help that I was dressed for a funeral, smart ( read slippy ) shoes and a suit, rather than boots and a warm coat. So today i've shown scense and took the RAC advice - 'Don't start out'.  As it is still coming down I think that was a good call, but sorry to any shop visitors.

 So what else to write about, maybe modelling stuff, I mean this is the Blog of a model shop? 
A left over from last year was the help we gave to the renovation of the huge model of Salisbury Cathedral that sits in a glass case inside the Cathedral itself.  I'm not sure if Boshirov or Petrov got to see it but millions of other visitors have, and due to its age it was looking a bit tired and many of the orginal lights had ceased to work.  The site team who were to renovate the model asked for some help in matching the finish on the buildings that are situated around the Cathedral as it is constructed, both in colour and texture.  I carried out a few experiments and was able to provide a solution.  I have yet to see the completed renovation but will find time this year. 
Other work done for other people includes a quick paint up for 'Fields Of Glory' (whose products we sell). A new base consisting of walls and road bed as 3 parts had been produced but without any supporting artwork.  I was glad to step up, basing it on Basra in Iraq, it didn't take long to colour and complete.  The next few builds to look back on are sci-fi orientated and produced for my annual trip to Belgium for Plastic and Steel in Affligem.
I always look forward and therefore look ahead to going to IPMS Belgium's show, 'Plastic and Steel'.  I like to take part in the contest as, if i've made the long journey why not? It's not any expectation of winning but just nice to take part and have others view my efforts. It is an extremly friendly show with many european modellers remembering me and my wife each year.  In Febuary I think about how long I have to devote to a new project. No pressure as its months until October.  Normally all that happens is the time slips away and those plans amount to very little. 2018 was pretty much the same. But the spark for the model I did take came from a different reason.  As many know I try very hard to get unusual Sci-fi kits into my shop, and I was chuffed to get Hasegawa's Mechatro-wego kits into the store. These are highly engineered models but they do look odd.  In fact so odd that we didn't seem to be selling any.  I decided to make one up, put a personal twist on it and mount it in a diorama setting.  The twist was in re-scaleing from 1/20 to 1/35 and giving the model a distinctly German WWII feel by adding Zimmerit, tools, jerry cans and weapons.  It was meant to be a 1947 era Mecha being stopped on a bridge. The traffic cop is equipped with the type of items in development by the Germans for equipping their troops if the war had continued.   The model did the trick, with potential customers seeing what the kit actually looked like and it's potential.  I also ended up taking it to Belgium where it did very well.  I also made in just 3 days a model i've had knocking around my head for a long time.  In fact this contributed to the speed of the build as i'd processed many times the steps i would take to make a skull as if belong to Darth Maul.  Obviously biologically incorrect, I wanted to hint at his tattoos having stained his skull.  The base kit is the skull from Lindberg, with Milliput horns, and some filler for bad joins.  At one point I though i'd ruined it but switching from using an airbrush to stippling with a paint brush saved the day. Proof if needed that airbrushing dosn't always result in the best finish.  That's it for now.  I was going to write a paragrah concerning Nitto and Ma.K, more sci-fi goodness but maybe that's an incentive for next months Blog.  Be safe, Dec at SMC.
Last year my Blog writing was terrible. One article in 12 months. Forgive me, though it is symptomatic of how busy the shop and hence me has been. And if i'm being honest I did drop the ball a couple of times last year, not just in the lack of blogs. A couple of modelling deadlines were missed for commision work, though I still feel it better not to rush when working on something and estimations of time are not an exact science so unexpected events can have a knock on effect.   I was lucky to have Sophie, my daughter help out in the autumn and over Christmas, she has been a great help and wonderful company. She also surprised a fair few customers with the depth of her modelling knowledge.  She and I used to build kits when she was young as father and daughter time when i'd return from being on tour or posted away from home. And dare I reveal she has attended shows and won awards when I have walked away with nothing.  Sadly now she is a twenty something embarking on her future so model making does not feature in her spare time. 
Continuing the busy extra curricular events that having a model shop entails means so far this year I've not taken a full day off.  Monday, (my closed day) has seen me in Margate and London as being involved in the industry does mean I get invited to the release announcments for each new year's range from the bigger names in the UK hobby world.  To be honest I don't often attend, many items are nothing more than CAD illustrations, or re-announcments of items that don't appear for up to 3 years previous. This year I have in the end been hosted by Hornby and Bachmann in Margate and London respectivley. Both these names are familiar to model Railway enthusiasts but kit makers will be more interested in the Airfix (Hornby) and Pocketbond (Bachmann) elements, Pocketbond being importers for Trumpeter, Takom, Academy and many others.
For the first Monday of 2019 I travelled to Kent the Sunday before so as not to get stuck on the M25 and was therefore one of the first to be shown around, even before the offical press release. This did mean I was asked not to photograph some railway items for fear of leaking it to the internet.  The tight control of the release info showed just how dog eat dog the hobby industry really is as the security measure was related directly to other retail\manufactures that were competing to get products into the market place first. Hornby had a new Loco (known as a Terrier).  It is not the first time they have made a Terrier, and the existing model was still decent.  But Hornby had decided on a 3 year development programe to replace it with a more modern version.  A well known retailer who also commissions Hornby's competitor to manufacture limited edition locos on their behalf had identified the potential gap in the market so set about beating Hornby to release a newer item.  As locos are expensive, most people only buy a type once so being first out usually means the majority of sales.  Hornby raised the stakes and hence the security, as they are now releasing the new Terrier in the first few months of 2019, 2 years ahead of schedule taking the first place postion when it comes to release dates.  Apt being called a 'Terrier'; it is Dog eat Dog indeed. 
On the Plastic kits front there is a lot to report and I feel Airfix for once are getting everything right this year.  Telford saw the 1/24  Wildcat announcement but additionally we will be treated to a brand new 1/72 Buccaneer, 1/72 Mig 17, 1/48 Tiger Moth. 1/35 scale military kits will appear in Airfix boxes, but are infact Academy offerings. Airfix finally realise that a red box doesn't mean new and won't  make up for an old crusty kit inside.  So older kits are being packaged as VINTAGE-CLASSIC.  It does mean the re-issue of some old kits that will be a struggle to build to modern standards but older genaration kit builders will love the Heron, Dominie and Jetstream being back amongst others.
A week later it was hard to know how Bachmann, the owner of Pocketbond felt about this turn of events, they were tight lipped about things in general.  The new 1/32 HK Lancaster was a jewel in their crown but for everybody present this was 'Old News' as it really belonged to 2018's releases. I am happy to say that Pocketbond in general are still receptive to modellers needs and desires regarding future model production.  Big kits are still very much in vogue and we may see a 1/200 Titanic this year, another version of the 1/32 Lancaster and some amazing new models from Takom, the Frie Crane already appearing ahead of schedule. 
 Another thing I cleared up by being able to speak directly to the management was Pocketbond's announcement that a £12.00 fee would be invoiced to replace damaged / missing parts.  Digging down this was not quite as black and white as the announcment had seemed.  As a retailer I am trusted to know my customers and follow up problems, so no charge on shop related matters. The issue which has become a bigger deal in recent years is the number of second (or 3rd and 4th ) hand dealers who don't care what state the kits they re-sell are in.  I'm sure many of you have taken a purchase home whether from an Ebay dealer or an under-table sale to find an important part missing even if the box said complete. I regularly get asked in the shop to help, but I've had to reduce my helpful nature as tallies are kept on the stock sent out and the number of issues needing to be resolved.  I was given a friendly warning that Salisbury Model Centre was sending parts and decal requests far more often that other shops in the Wiltshire and Hampshire area.  No deviousness on my part, and perhaps reflecting a 'We Can't help' from some staff at other outlets, but it has meant having to turn down people who asked for help after their 'bargain' purchase has been started.
Overall a good start to the modelling year on the retail front with much to look forward to, but for some big names a review of production times and costs may be due.
The smaller companies don't have the oppertunity to do shows, but I keep a good relationship going with those I deal with, so hope to share with you some surprises from less well know manufacturers as we get them. For some big names based overseas, Nuremberg in Germany is where everything is revealed, and is in full swing as I write.

Un-surprisingly being so busy also means no modelling of my own at present, though I did end the Autumn with some activty and Christmas brought some interesting things but more on that another time.... Happy New year and i'll post some pictures to go along with the ramble soon.

Summer 2018

A distinct lack of a blog this year, and not due to a lack of things to blog. Quite the opposite in fact with so much happening that it has been surprising looking back over the year so far.  The year began with sadness knowing that Mr David Grove of Endless models, and one time owner of Salisbury Model Centre passed away after contending with two seperate illnesses.  He was my competitor in retail but in reality we spoke 4 times a week and I was a customer of his when I moved into the area. We got on and I was glad to be able to attend his funeral in Febuary.  The day went well but those present were surprised to find how much snow had fallen while we were inside. It made getting home difficult for everyone and led to me being closed for a couple days as we all had to contend with snow drifts. To be honest my Landrover could have got me in, but the roads were strung with abandoned cars and the streets deserted so it would have been pointless. I did use the time well as comissions needed attending to, more on those later.

Feb moved straight into March and front page news with the Nerve Agent attack on 4th March against Sergei and Yulia Skripal, about 3 min from the shop in 'The Maltings' and possibly other locations such as Zizzi's restaurant.  This was bad news for Salisbury and had a noticable effect on trade but we never missed a day trading as many customers refused to be intimidated by the media's sensational reporting. One surprising press article came from the Sunday Times as the opening paragraph of an in depth report managed to mention Salisbury Model Centre.  The coverage was seen by a customer who let me know, and the beging of the article is reproduced here.  It is no surprise that the reporters had noticed the Soviet era models on display as anyone who knows my own background as a MILAN Anti Tank operator while in the Army. AFV recognition was an important part of our training.  If only we had access in the late 80's and 90's to the knowledge that is so freely available now.  I do find myself stocking kits of Russian vehicles that proved elusive in my days of soldiering with only a grainy slide to try and work out key recognition features. 
Sadly after enduring months of restrictions and reduced vistor numbers to Salisbury and just as things seemed to be returning to normal Novichok, the chemical agent at the source of the poisoning hit the headlines again.  This time an incident involving the death of an innocent civilian who had found a discarded container the agent may have been transported in. The location was near by Amesbury, but the effect on trade was the same as the reports fueled the fear in some peoples minds that it is not safe to travel into Salisbury ( or even Wiltshire according to figures released by Tourism GB. The number of cancelled holiday trips to Wiltshire spiked after recent events making things difficult for Stonehenge and Salisbury Cathedral too).
Commisions have been rife, as have repairs despite my decleration to stop taking work in.  Thankfully having my daughter working in the shop this summer has given me some time to catch up. One of the earlier commisions this year was to build and paint some 28mm scenery made from laser cut MDF. A first for me, and very enjoyable. I kept to a limited colour range to keep the various buildings looking similar. They support 'Test of honour' a Samuri wargame so I wanted to keep it feeling oriental by using reds and gold. A dead Bonsai tree was 'upcycled' too.
A more challenging request concerned the building of two 1/48 RAF twin engined fighters specifically to represent aircraft flown by Wing Comd Archie Boyd DSO DFC. The Blenheim was a difficult build being the Classic Airframes kit that combined resin and plastic parts with decals made up to match the references available. That in itself was tricky as the aircraft I was asked to model was only flown for 9 days before being crashed. Despite a lack of exact references I was helped significantly by being provided with a photocopy of the pilots log book which had some serials still legible.  The Beaufighter was far more simple in construction being the Tamiya kit with new markings applied.
Airfix have announced a new tooled 1/48 Blenheim this year which would have made this task a lot easier.  The cockpit area on the Classic Airframes kit was nice and the large amount of glazing allows the detail to be seen, but this does mean extra care is needed in bringing the whole cockpit together and then the joins between glazing and main fuselage cleaned up. Anyone tackling this can expect a lot of filler and sanding being careful not to damage the glazing as you work, or to get dust back inside the sealed cockpit. Intended as gifts, both aircaft were based and mounted in clear cases. The obituray of Wing Comd Archie Boyd can be read here.
http://aircrewremembered.com/boyd-archie.html
 Salisbury IPMS had its annual model show at the beginning of June. A great day for all who attended with visitor numbers higher than ever.  I was there as a trader and also as a club member. For our in house Revell contest I made the effort to finish a 1/24 Corvette and mounted it on a simple base with a figure.  I had stalled with this car kit due to getting an 'orange peel' effect on the gloss, ruining the body work's finish.  I re-visited the model and using a cream polishing compound intended for real cars was able to buff back the shine. Ironically in the end the smooth shiney body I had worried long over was then over sprayed to weather it and make it seem as though the car was in mid wash.
One slightly bitter sweet Club matter was the handing over of responsibilty for the club's web pages. For the last 5 years i'd hosted IPMS Salisbury's club web pages and edited updates, events and pictures. The club had prior to this relied on outside agents who had proven to be very unreliable ( expensive set up fees then months between updates- be warned any club or private individual relying on a 3rd party to look after your site- it is easy to be left frustrated).  The new Club Chairman took over the Club's web presence and a totally independant site was created that also promoted the annual show.   I won't totally remove the IPMS SALISBURY presence, and the button on this page's drop down menu will remain but it won't be updated often, just the galleries kept current.  For IPMS SALISBURY matters click here.

Regarding the in house Revell contest my Corvette didn't place, but it was fun to enter. The winner was Tod, an American club member who co-incidently appears below in the stars and stripes tie.  He helps me out on occasion in the shop so you may bump into him.  The reason for the patriotic ties was the Royal Wedding held on 19th May. It was a great day with many people up and down the country having parties and events.  We decorated our window with Red Arrows flying smoke into a heart shape, it drew a lot of comments.  We also had a royal visitor in Salisbury when Prince Charles and his wife came along to give businesses effected by the Nerve Agent attack a boost.  Despite us having kits of the Apache for Harry and Wessex for himself, Charles didn't pop in to the shop. Having Tod helping out makes up for the loss of Dan, the young lad who has been working Saturdays at the shop for about 3 years. He decided to give Army life a try and enlisted into the Royal Armoured Corp.  I was pleased to be invited to his pass out parade on the 29th June. This turned out to be a close call as the NHS rescheduled surgery for me on Monday of the same week. Thankfully it was a painless operation and after 28 hours I was able to spring myself out to be able to attend and be back in the shop the next day.  I do want to thank my Wife for looking after the shop and customers during the time I was convalescing. What she dosn't know about Model kits she makes up for in good looks.
Events in Salisbury including Steam arrivals

.
Note, this service is aimed at providing information of interest and you are strongly recommended to find more specific detail from the relevant agency. Links will be provided where able.  Do not plan any trip solely from the information herein, SMC will not be held responsible for cancelled events, timing changes, address errors etc as no announcement herein is the property of SMC but taken from the originators detail.  We do hope however that you discover events in the area that you may have otherwise over looked. Events are listed in chronological order.
---
DEVISES & DISTRICT WARGAMES GROUP
The DDWG meet Sunday afternoons between 14.00hrs and 18.00hrs at 1st Devizes Scout Hall, 15 Southbroom Road, Devizes. SN10 5AD.
There is a yearly subscription but the first 3 visits are free to give a taster of the wide variety of games played at the club.
This email address is being protected from spambots. You need JavaScript enabled to view it.  
---
Events at PENDON Museum.
Tel 01865 407365 for booking or check Pendon web site.

---
Trade news
05 Jan 23
New Model Railway supplier in Store

A New Year and for Salisbury Model centre a new supplier. Accurascale. This relatively new company is bringing some exceptionally well detailed locos and rolling stock to the market and we will be stocking 4mm 00 items from Jan 2023 onward. Please allow us time to grow what we stock but if you have specific interest or are looking to pre-order future releases please ring the shop and let me know.
29 May 22
What is the score with Humbrol Enamel?
A number of shops have ceased selling Enamel paints. Humbrol have received a lot of flack about the withdrawal of enamel but the same has been also true of Revell Gloss enamel. Yet Salisbury Model Centre is still stocking and selling Humbrol Enamel so what's going on?
Recently MEKO ( MEthylethyl Ketone Oxime) a chemical used as an anti-skinning agent in paint was reclassified by EU Law as hazardous and not to be used in manufacture or allowed to be distributed. At no point was any paint recalled but as a manufacturer Humbrol, part of the Hornby group issued a statement saying it would be against the law to sell existing Enamel paint at the end of April 2022.
I looked into this statement on the Government HS&E site. 2 things were revealed, firstly the law applied to manufacture and distribution due to the large quantities of MEKO handled, upstream users (the HS&E term for the general public or small trade users) were allowed to continue to use what ever stock they had. Secondly UK law is in transition so at present EU law is being quoted until post Brexit laws have been re-written.
I took the decision to carry on stocking and selling Humbrol Enamel as no official recall notice was served by UKHS&E
In May Hornby issued a low key statement admitting that presently Humbrol Enamel can be sold legally in Britain. You will be glad to know that while it has been withdrawn in many places it continues to be available in Salisbury Model Centre.
However, do note that as Humbrol have ceased making Enamel using MEKO, stocks will eventually run out and eventually the racks will be filled with a non-Meko alternative.  Humbrol expect to have an alternative by Autumn 2022 but not necessarily every colour.
20 Oct 21 Whether we win or not, it was really nice to be nominated for 'Salisbury Retailer of the year'. Thank you to whom ever that was and to anyone who voted in the Salisbury Journal this week.
01 Mar 21 It feels like things are getting better with a vaccine programme that is hitting targets weekly but we should consider that Covid is a worldwide issue and we will still see problems arise as a knock on effect. Mentioned in the press and with official follow up to the trade, Tamiya, a giant in the kit and R/C world is experiencing problems in maintaining levels of production to meet increased demand as well as a shortage of containers to ensure shipping of stock.
28 Feb 21 Unlike the normal expected price increases that usually have a warning, current events are seeing fluctuations in prices. Salisbury Model centre is not reacting to these changes at present and maintaining prices at 2020 level but the following gives the reasons that prices may indeed rise in the future in line with other retailers and suppliers.
Brexit and changes to import/export have seen some companies add to the price of items; in their words 'to cover additional costs due to administration'.
Due to the Covid pandemic Shipping containers are in short supply. Worldwide it appears that larger number are being kept in location as storage lockers rather than be returned for shipping use as well as dockside facilties becoming slower due to social distance regulations or being shut down due to Covid out breaks. Not only is that slowing the turn round it also means many ships are using different ports to unload, often not in the original destination country so the containers are in transit longer.  This heightened demand means the price per container has gone up and this is being passed on.  Obviously this isn't just a model kit supply problem but it is noticeable on anything being shipped from Japan and China. 
01 April 20 As expected some manufactures have indicated delays in release schedules. The full implications on what arrives at Salisbury Model Centre won't be known until this is all over and a normal routine is returned. I will of course ring customers who have long standing orders and update each individually once we are back open
11 Mar 20 I have been asked a lot of questions regarding Coronavirus and its impact on the shop / hobby.  I can not give an authoritive answer to everything but some points here may be useful.
1- Items shipped in from China ( where a lot of model manufacture takes place) are safe as the life of the virus on inanimate objects is less than the period spent in transit. Information published on 11th Feb [in the Journal of Hospital infections] states the virus can only survive 9 days without a host. That is a conservative maximum, with 4 to 5 days the expected life span on wood, paper, plastic and metal.
2- Immediate new stock is not likley to be delayed unless held due to import restrictions.  We may see shortages nearer Christmas as the effect of Factory closures in China now will be felt in the autumn.
3- Shipping and production of models is done worldwide, not just China so we may see other issues arise as other countries take action to combat the Virus. Italy in lockdown may cause problems for Italeri kit deliveries for example.
4- Continue to enjoy the hobby, if you carry out good hygiene and stay fit, be mindful of those around you and your personal space then attending model shows is a minimal risk.  But if you do have concerns then do what you think best, which can include staying at home and away from groups. Don't let yourself get overwhemed by fear as much media reporting is sensationalised.
30 0ct 19 Brexit, the falling pound and all the uncertainties regarding what is going to happen from the 31st onward have caused many suppliers to review their prices ahead of the normal New Year price increases. PECO has just announced an immediate increase on all items across their ranges and Salisbury Model Centre has already seen increases from many European based suppliers which we have absorbed for the past 3 or more months but will now slowly be reflected in future prices.
06 May 2019  Hornby have given up on the Tomas the Tank Engine licence formally this year but on 17th April 19 Bachmann USA agreeded with Bachmann Europe to extend the H0 Thomas range into the UK from 2020.

13 Jan 18  The news coming out of America is Hobbico, the RC giant that recently bought the German element of Revell has filed for bancruptcy.  With Revell's new Catalogue due very soon, that news has raised some questions amongst customers.  Be assured the kit side of Revell is safe and Revell GmBH will not be effected by the news.  In italics below is part of the formal statement that was issued by Revell UK. I hope you will join me in wishing Revell good luck for 2018 and that the employees of Hobbico don't have to much anguish over the coming months.
"We would like to inform you today that Hobbico, Inc. announced this week that it has filed for restructuring under Chapter 11 of the Bankruptcy Code in the United States. Hobbico also announced its plans to sell the company. The company is already in the process of actively exploring prospective buyers, but it is too early for further detailed information whether Hobbico will be sold as a whole or be split into parts.
Most important for you is:
Revell UK is NOT part of the bankruptcy filing and will continue to operate its "business as usual" moving forward. We do not expect disruptions in the daily business with our suppliers, customers and other partners as Revell operates independently within the Group and has no organizational dependencies. Our top priority remains to offer our customers the best products, the best possible service and to continue to grow our business, like we did for another consecutive year in 2017."
Reference pictures
My own pictures for you to use to detail your models or for interest.
Challenger 2 Main Battle tank of The British army.
Dardo IFV of the Italian army. 
M1/M1A1 Abrams. US Main battle tank.
Cobra. US attack helicopter being recovered in Iraq.
Humvee US utility vehicle.
AMX10P French APC.
VAB Wheeled APC of French Army.
RAF Calf Tractor Tiny tracked vehicle used to clear snow in WWII on RAF runways.