Please telephone the shop to order any item that appears on the following list subject to availability.  We will dispatch telephone orders within 24 hours or advise accordingly. 
New Item now in Stock

awaiting new post

VALUE AIRBRUSH SET
I've always been cautious about low priced Airbrush set ups but after testing the EXPO set for a while and getting good results I am happy to offer these sets along side our IWATA items. For £79.95 you get everything you need except paint and thinner to get you started. Read a full review on Kitmaker Net by clicking the review link below.
TRACK CHORES.
Some modelers love assembling individual track links, others hate it and would rather replace with Vinyl.  SMC can offer help with both as we have an extensive range of both individual plastic replacement tracks and replacement Vinyl band track too.
GREAT NORTH ROADS

A recent article on Armorama focusing on the excellent Great North Roads (GNR) plaster diorama buildings that are stocked but SMC. These heavy items are available on line, but incur steep postage prices due to weight.


WE SELL WOODEN BASES, in various sizes, MDF and real wood, Varnished and plain. Don't Forget:-
LIFECOLOR BOX SETS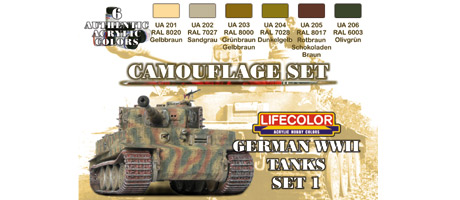 The most accurate way to finish your model, 'lifecolor' sets are matched to the exact paint shades used on the real vehicles.  When thinned these acrylics will airbrush beautifully laying down thin coats quickly, used with a conventional brush 'lifecolor' goes on thinly so no detail is lost but light colours will need the application of two coats. The thin consistency means brush marks are almost non-existent. The German set illustrated above has RAL colours, with the designation as used by the Reich Ministry when ordering the employment of colour schemes on German vehicles.  
German WWII Tank set 1 includes:
UA 201 Gelbbraun RAL 8020
UA 202 Sandgrau RAL 7027
UA 203 Grunbraun/Gelbbraun RAL 8000
UA 204 Dunkelgelb RAL 7028
UA 205 Rotbraun/Schokoladen Braun RAL 8017
UA 206 Olivgrun RAL 6003
Other sets use colours matched to FS numbers- Federal standard, the US paint colour designation.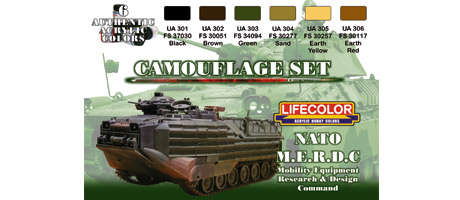 This set  is ideal for modern NATO vehicles and includes:
UA 301 Black FS 37030
UA 302 Brown FS 30051
UA 303 Green FS 34094
UA 304 Sand FS 30277
UA 305 Earth Yellow FS 30257
UA 306 Earth Red FS 30117
Other sets available in store and to Order.
LATEST ARRIVALS IN STORE
17 Sept ICI Janus 0-6-0 Engine 00 Scale £99.95
N Gauge Sunflower kits by BUSCH £4.60
AIRFIX 1/48 Gloster Meteor FR.9 £36.99
ICM King of the night ( 1/16 figure that looks very similar to the King of the white walkers in Game of Thrones) £22.99
Oxford Rail BUSBY WEST KENSINGTON 5 plank £10.95
Oxford Rail COPPICE CANNOCK CHASE £10.95
New Oxford diecast vehicles.
10 Sept
Tamiya Type 16 105mm 8 wheeled vehicle in 1/35 scale £49.99
Academy new tooled Panzer IV with 3D zimmerit Decals £38.99
Early Sept arrivals.
1411 Italeri 1/72 A-7E Corsair II with 4 marking options £17.50.
Zvezda A-50 'Mainstay' Russian AEW 1/144. £29.99
A08013A Airfix 1/72 B.III Avro Lancaster £30.99
Amati 1/100 wooden boat kit, ' Bluenose' 1921 Schooner 54cm long £89.95
35254 Soviet Tank Crew 1/35 scale in heavy duty uniform. 4 figures £10.99
35091 Soviet Combat Engineers. 5 figures in box engaged in mine clearing or mine laying. £10.99
Eduard L-29 Delfin 1/48 scale. £24.99. 2 marking options, one of which is 'Tiger meet'.
1/72 Colonial Wars figures. 6187 British Infantry and Sepoys. £8.99
ACE 1/72 Saracen APC. £16.30
Best catch up after being away.
Arrivals while shop was open, but I was away. 12 - 26 August.

OXF 76CHV001 Red Combine harvester by Oxford diecast in Rail scale.
OXF 76JCX001 JCB 1980's 3CX backhoe.
IBG 1/35 BMW with side car ( civil version) £10.99
Modelcollect 1/72 WWII E100 Jagdpanther £16.49
ICM 1/48 Condor Leigion version of HS126a-1 with bomb rack. £20.99
Valom 1/72 RB-45 Tornado in RAF markings £43.80
Restocks of Toon Lancesters and B17 (£11.99)
CB35133 1/35 Krupprotze with Pak 36 £36.99
Bronco 1/35 CB35039 DFS-230B-1 German Assault Glider £45.60.
Italeri re-issue IT2681 F-5E Lockheed Lightning £29.99
1st - 10th August
Gorrila Glue- 60ml £5.89

'Strontium Dog: The good the bad and the mutie' 28mm starter game based on 2000AD comic adventure. £50.00
Waterloo- Black powder 28mm Wargame starter set £70.00
New Metcalcalffe Card kits. Station Masters house in both N scale and 00.  N- £12.00. 00- £15.00
IBGE3503 TKS Tankette with 20mm Gun in 1/35 scale with Easy link ( Ready built track and suspension assembly) £10.30
SMER 1/72 Piper L-4H ( with floats or wheels) £7.50
ICM24104 1/24 scale S.W.A.T Team figure (pose 4, kneeling postion) £11.40
Meng MMSPS061 King Tiger turret stand and muzzle cover. £38.99
Plastic Soldier Co, 1/72 Sexton £18.95
26 July 18
Takom Bergepanther Ausf D Umbau Seibert 1945 with interior 1/35 scale. £67.99
Takom Bergepanther Ausf A Demag with interior 1/35 scale. £69.99
Thunder Model 35211 British 7,2 inch Howitzer 1/35. £41.99
Academy 1/48 AY12327 Fockewulf TA 183 Huckebein WWII German Jet prototype. £24.99
24 July 18  Tamiya New tooled Stewart 35360. Late series M3 with soviet lead lease markings. £29.99
16 July 2018

Bachmann locomotives.
31-655TL Limited area availabilty Class 47 'City of Truro' BR Blue. RRP £169.95 Our price £144.50
391-028 Weish Hihgland Black Baldwinn Class 10-12-d Narrow Gauge RRP £144.95  Our Price £127.50
391-027 Crimson Baldwinn Class 10-12-d Narrow Gauge Ashover 'Peggy' RRP £144.95  Our Price £127.50 (sold out)
391-028 Weathered Baldwinn Class 10-12-d Narrow Gauge Ashover 'Hummy' RRP £154.95  Our Price £135.95 (sold out)
4 July 2018
Re-stocks of Gypsium Plaster busts, all £19.99. Great for figure painters.
HENRY VIII
SHERLOCK HOLMES
DUKE OF WELLINGTON
LORD KITCHENER
BRUNEL
OLIVER CROMWELL and a brand new release CLEOPATRA.  Existing stock includes QUEEN ELIZABETH, NELSON, CHURCHILL and VICTORIA.

30th June 2018
Pegasus Hobbies TARZAN figure £44.99
Aber Soviet Radio Antenna bases and aerials (3 per pack) 1/35 scale £6.15
Hasegawa 1/16 Musuem Quality Camel £199.99.
Back in Stock Micro set and Micro Sol. £3.99 per bottle.
Miniart 1/35 Panzerschreck RPzB set £12.35