Please telephone the shop to order any item that appears on the following list subject to availability.  We will dispatch telephone orders within 24 hours or advise accordingly. 
New Item now in Stock

More New Ideas from
LIFE COLOR

New Powder and Color sets for Algae and Lichen. Apply fixer fluid with a brush to the areas onto which you wish to stick the coloured powder. This can be done by dusting onto the Fixer or mixing the powder into the fixer. Repeated applications allow to obtain large volumes of vegetation. The Fixer fluid can be diluted with water. All Powders can be mixed to obtain a wider range of tones.
Algae set includes:
POW 05 Luxuriant Green - Powder
POW 06 Full-blown Green - Powder
POW 07 Blight Plant - Powder
POW 08 Dried Plant - Powder
FF 04 Gloss Yellow Green - Fixer Fluid
FF 03 Gloss Dirty Green - Fixer Fluid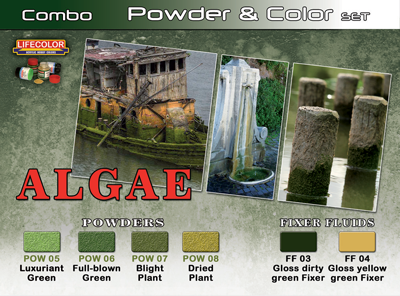 LIFECOLOR BOX SETS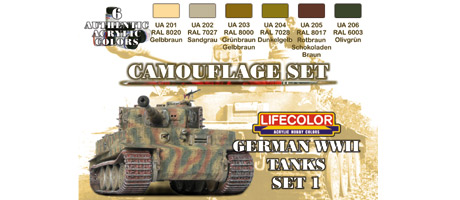 The most accurate way to finish your model, 'lifecolor' sets are matched to the exact paint shades used on the real vehicles.  When thinned these acrylics will airbrush beautifully laying down thin coats quickly, used with a conventional brush 'lifecolor' goes on thinly so no detail is lost but light colours will need the application of two coats. The thin consistency means brush marks are almost non-existent. The German set illustrated above has RAL colours, with the designation as used by the Reich Ministry when ordering the employment of colour schemes on German vehicles.  
German WWII Tank set 1 includes:
UA 201 Gelbbraun RAL 8020
UA 202 Sandgrau RAL 7027
UA 203 Grunbraun/Gelbbraun RAL 8000
UA 204 Dunkelgelb RAL 7028
UA 205 Rotbraun/Schokoladen Braun RAL 8017
UA 206 Olivgrun RAL 6003
Other sets use colours matched to FS numbers- Federal standard, the US paint colour designation.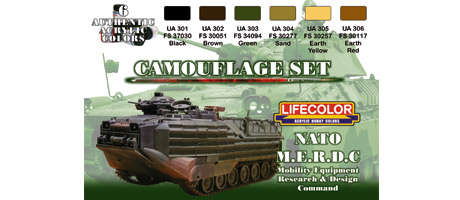 This set  is ideal for modern NATO vehicles and includes:
UA 301 Black FS 37030
UA 302 Brown FS 30051
UA 303 Green FS 34094
UA 304 Sand FS 30277
UA 305 Earth Yellow FS 30257
UA 306 Earth Red FS 30117
Other sets available in store and to Order. 
VALUE AIRBRUSH SET
I've always been cautious about low priced Airbrush set ups but after testing the EXPO set for a while and getting good results I am happy to offer these sets along side our IWATA items. For £79.95 you get everything you need except paint and thinner to get you started. Read a full review on Kitmaker Net by clicking the review link below.
TRACK CHORES.
Some modelers love assembling individual track links, others hate it and would rather replace with Vinyl.  SMC can offer help with both as we have an extensive range of both individual plastic replacement tracks and replacement Vinyl band track too.
GREAT NORTH ROADS

A recent article on Armorama focusing on the excellent Great North Roads (GNR) plaster diorama buildings that are stocked but SMC. These heavy items are available on line, but incur steep postage prices due to weight.


WE SELL WOODEN BASES, in various sizes, MDF and real wood, Varnished and plain. Don't Forget:-
LATEST ARRIVALS IN STORE

28 Sept
Hornby PGA Hopper Wagon 'TARMAC' livery £14.99
R4770, R4768a, R4792, R4768, R4793, R4794, R4769 all at £44.99 each.
OxfordRail Carflat 'motorail' OR76CAR003 £29.95
Warwell A Diamond Bogie BR Brown OR76WW002 £29.95
Hornby J94 0-6-0 'Lord Phil' RRP £84.99 Our Price £80.99
Sept 01 - 9
Deluxe Materials AQUA MAGIC 125ml £9.99
JTT senic plants various types.  Hay bales 00= £7.65, 0 =£9.95  30 flower sprigs = £7.95,  Daises x24 = £7.50, Ferns x12 = £7.50.
Plastic Soldier 1/72 Marder and Variants £17.50
Hobbyboss SU-17M4 'Fitter' £49.99
Trumpeter 1/72 British Wyvern S.4 £23.99
Vallejo AV Air Set British Caunter Colours £13.99
PECO Palm Trees x4 £7.75
PECO Layering Spray, for applying leaves or Grass. £10.50
Dragon 1/35 LANCE rocket system £59.99
Hobbyboss Russian ASU-57 1/35 Tank destroyer. £39.99
Eduard 1/48 Hellcat mk 1 in FAA markings £15.99
Hobbyboss RED ARROWS HAWK 1/48 £33.99
Roden 1/144 VC-10 K4 Tanker £31.99
August Arrivals.
A lot to please railway fans since the begining of August:-
Dapol N Gauge Coaches, all at £26.95
Gresley BR Carmine & Cream 2nd Class E12283E and E12621E
Gresley LNER Teak Brake, 5534 and 5542.
Gresley LNER Teak Buffet
Gresley BR Carmine & Cream Buffet 9121.
Oxfordrail & plank wagon 'Rickett' £10.95
 Limited edition 'Janus' 0-6-0 Diesel Shunter 'NCB' livery £99.95
Ltd Ed 'NCB' 7 plank wagon £10.55
New N Gauge Metcalfe Card kits:  PN920 Mainline Station Booking hall £20.00
PN926 Parish Church £10.99
Gilbow/ EFE wagon loads back in stock, most at £4.95
HOe Starter set, 0-6-0 engine, 4x lumber wagons, loads, Oval of 009/HOe track and controller. £109.95
Hornby R3454 GWR Castle class 'Drysllwyn Castle' RRP £164.99 our price £145.99
Rail weathering set by Lifecolor £17.99
Bachmann Class 450's arriving in next few days.
21 July 17 Italeri 1/24 Ford Escort MkII Rally £25.99
Revell 1/35 Leopard 1A1 £29.99
Battlestar Galactica Original Viper mk1 1/32 with clear cockpit windows and pilot. £39.99.
Bat mobile ' tumbler' 1/24 £39.99
Mistercraft kit (ex Kopro) Si 204A 1/72 German twin engine pre-war Passenger Aircraft £14.99 and 204D Bomber version at £14.99
Moebius MMK961 1/10 scale Death Dealer, figure on horseback. £89.99
4-TRACK Station road Garage service station £30.00
New 4-TRACK Tree packs from £12.50
Perry Minatures 28m.  English Army 1415-29 £20.00.  Napoleonic Hussars £20.00
13 July 17 Oxford Rail OR76DG001 GWR lined 2309 Deans Goods loco RRP £112.95.  Our Price £101.65
07 JULY 17 Oxford Rail OR76CAR001 BR livery. £29.95
OR76MW6001c  6 plank Mineral wagon LNER grey £10.95
05 July 17 Hornby 00 gauge items:-
R3458 SR 4-4-0 Schools Class 'SHREWSBURY' no 921 RRP£154.99  Our price £139.49.
GWR Collett Coaches all versions at £44.99
R6809 BR 21 Ton Hopper wagon £16.99
R3525 BR 4-6-2 Battle of Britan Class 'Sir Archibald Sinclair' Air streamed loco.  RRP £164.99 our price £148.49
01 July Restocks of the super popular FV432.
A Model Yak-27R 1/72 scale £16.50
ICM 1/16 SWAT team leader figure £22.40
ICM 1/35 French infantry in gas masks £10.20.  5 figures in box.
Takom 1/35 M47E/M £55.99
ICM 1/72 ATZ-4-131 Fuel Bowser £7.40
Gripping Beast 28mm Viking Hirdmen £22.99
27 June Rye Fields Models Kits. M1A1/ A2 Abrams with full interior. £67.99
M1 Breacher Assault vehicle £69.99
VK36.01 Panzer with full interior £ 59.99
Meng Models BMR-3M Soviet mine clearing vehicle. £52.99
23 June New Revell in store.
02453 1/72 7 Years War figures £12.99
03926 1/32 Focke Wulf Night fighter £36.99
05152 1/700 Container ship £36.99
05778 1/28 Red Baron Gift set. £29.99
07915 1/8 US Police motorcycle £54.99
12 June 17 re stocksplus some new buildings in Gaugemaster's 'Fordhampton' Range.
Farmhouse GM411 £15.95
Nurseries (green houses) GM413 £19.95
Surgery GM410 £15.95
Village store/ Pub. GM408 £17.95
Modern Loco depot. GM406 £20.95
1960's house GM405 £15.95
Fordhampton Station GM401 £25.95
 31 May 17 It has been a busy time here of late so posting new arrivals has not happened for a week or two, please don't think that means nothing has been arriving.  What follows is a brief up-load of new items. There is always more in store and routine re-stocks.
Bachmann's new NEXT18 decoders £21.95
372-933 SECR N class 2-6-0 in grey RRP £129.95 our price £114.35
374-191 BR Mk1 BSK Brake Second Corridor in Deptmental Yellow.
38-032A Weathered HHA 100 ton Bogie Hopper Wagon ' Freight Heavy Haul' logo.  £46.95
42-060 N gauge Boiler house chimney £9.95
PTFE Grease by Labelle £8.99
German 'Radeburg' Station kit HO. £23.40
Eckon 4mm Photo etched Speed restriction signs. £6.50
Trumpeter 02219 1/32 Mg21 Mongol B £49.99
New 1/24 Figures from Masterbox £7.50 each ( Jackie and Sloan)
Airbrush flow improver by Vallejo £3.25 32ml bottles.
RS Models Me209 twin body nightfighter £22.70
A Model Beriev Be-10 Jet flying boat 'Mallow' £27.20
Lots of 1/35 Tigers from Tamiya, Zvezda, AFV club and Academy.
Valom 1/72 B-45a Tornado £54.99
28m Dr who figures and extension sets ( prices vary).
28mm 'EXTERMINATE' Dalek verses Cyberman board game £35.00
05MAY 17

32.756 Tintagel Castle GWR Class Class 57/6.  RRP £154.95  our price £136.50
Bachmann 00 Pullman Coaches all at £69.95
'Pearl' 39-292, 'Robin' 39-282, 39-310c Car number 350
04 May R3457 Hornby SR 4-4-0 T9 Number 116  RRP £149.99 our price £135.99.
02 May 17 Warlord 28mm Marlborough's wars 1701-1714.
Artillrty battery (3 cannon plus crews and mounted officers) £20.00
Infantry of the grand alliance £16.00
Infantry of the sun king £!6.00
Cavalry of the Sun king £20.00
Cavalry of the Grand alliance £20.00
22 April 17 Good amount of restocks of the HORNBY RAILROAD range, ideally priced for pocket money or gifts for youngsters.
Passenger Carriges all at £21.99.
0-4-0 Engines RRP 32.99 our Price £29.99
R3086 LNER Flying Scotsman A1 RRP £94.99 Our price £85.49.
19 April 17 VALKYRIE
35013 soviet tank crew Afghanistan 1980 £19.99
35010 USMC Tank crew Vietnam £26.99
35014 BOAR Tank crew £25.99
35002 Modern Russian Tank crew £18.99
35018 IDF Tank crew Yom Kippur 1973 £19.99
35022 Modern French VBL crew £26.99
35006 West German Tank crew 1970-80 £22.99
35021 D9R Crew Female IDF 2000 £26.99