Please telephone the shop to order any item that appears on the following list subject to availability.  We will dispatch telephone orders within 24 hours or advise accordingly. 
New Item now in Stock

Gypsum Plaster Busts by Modern Souvenir Co
Figure painters have traditionally looked to Metal or Resin as a medium for their figures or busts, with the expected high price that goes with it.  Plaster is a medium often encountered in diorama bases, buildings or groundwork.  It may be thought of as an unsuitable product for detailed figures, yet historically Plaster of Paris is the preferred medium of sculptors' and artist's casting sculptures and reliefs.
Salisbury Model centre stocks a series of British Heritage subjects, not just military that are about 13cm high, I approximate this at 1/9 scale.  The plaster used is British fine Gypsum Plaster which gives a hard surface that captures detail well and when rubbed does not give of any powder residue.  The best thing about being made from Plaster is the difference in price from what you'd expect to pay in Resin. Even a single 1/35 figure in resin is about £10.00 with larger pieces going for £35 to £40 pounds. These are much more affordable at £19.99. As well as the head bust, each one has a series of cameos arranged around the base that illustrate the life and times of each figurehead. The Duke of Wellington for example has tiny soldiers of the 95th, horse and canon, a furled flag and guards. The final supporting base has an inscription.
These busts take acrylic and enamel paint very well and I have no doubt that oils will be suited too.  There are no painting guides included so some research is required but as all the subjects are famous there is no shortage of reference material.
 I chose Wellington to paint and after checking for defects no air bubbles found, no mis-cast areas. I primed the piece in Army Painter black except for the face which I primed in Vallejo Air Mahogany brown. I built up layers of colour using Vallejo Basic flesh, Radome tan, white, bright red and grey all applied through my airbrush.  The bright red was also airbrushed in layers to get tonal variation for his jacket. The final airbrushed area was an over spray of dark grey into the recessed areas of hair, then with a little maskol on the temples, a light blast of white to show some greying of his hair.
The remaining paint work was all done by brush.  The cordage was painted Humbrol enamel gloss Service Brown , then overpainted with brass followed by gold to give the lighter high points.  Army painter Dark tone Ink shade was lightly touched along the cordage to neaten any lines, this was repeated on his collar's gold embroidery.  Fine brush work gave Wellington some wrinkles around the eyes and frown lines. Very light stippling darkened his jaw line and side burns as well as to darken the eye brows.  The eyes were done in dark green with black pupils.  Unlike resin models these busts have the iris and pupil sculpted which ensures no 'boss eyed' look.
 The range includes,  Queen Victoria, Queen Elizabeth the II, Hadrian, Sherlock Holmes, Queen Elizabeth 1st, Churchill, Duke of Wellington, Nelson, Brunel and William the Conqueror. Plus a number of others with new items released approx every 6 months.  Each one is £19.99.

VALUE AIRBRUSH SET
I've always been cautious about low priced Airbrush set ups but after testing the EXPO set for a while and getting good results I am happy to offer these sets along side our IWATA items. For £89.95 you get everything you need except paint and thinner to get you started. Read a full review on Kitmaker Net by clicking the review link below.
TRACK CHORES.
Some modelers love assembling individual track links, others hate it and would rather replace with Vinyl.  SMC can offer help with both as we have an extensive range of both individual plastic replacement tracks and replacement Vinyl band track too.
GREAT NORTH ROADS

A recent article on Armorama focusing on the excellent Great North Roads (GNR) plaster diorama buildings that are stocked but SMC. These heavy items are available on line, but incur steep postage prices due to weight.


WE SELL WOODEN BASES, in various sizes, MDF and real wood, Varnished and plain. We can make MDF bases to any size. Real wood dependant on size can also be done to customers measurments.

LIFECOLOR BOX SETS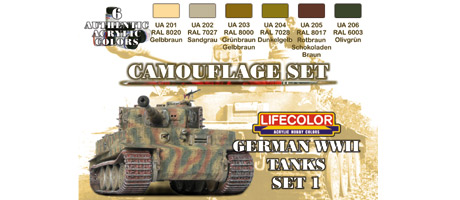 The most accurate way to finish your model, 'lifecolor' sets are matched to the exact paint shades used on the real vehicles.  When thinned these acrylics will airbrush beautifully laying down thin coats quickly, used with a conventional brush 'lifecolor' goes on thinly so no detail is lost but light colours will need the application of two coats. The thin consistency means brush marks are almost non-existent. The German set illustrated above has RAL colours, with the designation as used by the Reich Ministry when ordering the employment of colour schemes on German vehicles.  
German WWII Tank set 1 includes:
UA 201 Gelbbraun RAL 8020
UA 202 Sandgrau RAL 7027
UA 203 Grunbraun/Gelbbraun RAL 8000
UA 204 Dunkelgelb RAL 7028
UA 205 Rotbraun/Schokoladen Braun RAL 8017
UA 206 Olivgrun RAL 6003
Other sets use colours matched to FS numbers- Federal standard, the US paint colour designation.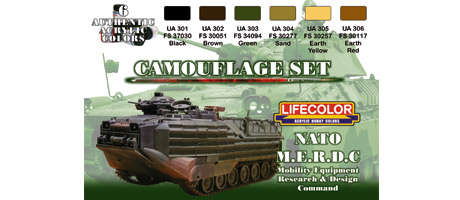 This set  is ideal for modern NATO vehicles and includes:
UA 301 Black FS 37030
UA 302 Brown FS 30051
UA 303 Green FS 34094
UA 304 Sand FS 30277
UA 305 Earth Yellow FS 30257
UA 306 Earth Red FS 30117
Other sets available in store and to Order.
LATEST ARRIVALS IN STORE

I MUST APPOLIGISE FOR NOT KEEPING THIS UP TO DATE. We have been receiving more new stock than I can keep up with.
July
ACE72434 Salamander Mk6 fire tender kit 1/72 scale. £20.80
Hasegawa Science World 1/72 Rosenbauer Panther Airport crash tender £36.99
Hobbyboss (ex tristar) Panzer tank crew £8.99
ICM WWI tank crew 1/35 £8.99
Italeri re-release of ESCI Viggen 1/48 £24.99
New Lifecolor Paint set £17.99:- White Wood
Academy 1/144 USAF B-1B new tool £26.99
Recent Revell releases.
04963 Platinum edition B-1B LANCER with Eduard etch and masks £119.99
07685 1/24 Martini Porsce 934 £24.99
03282 WWII Fordson W.O.T 6 truck 1/35 scale -283 parts £29.99
June 21 Tamiya New Hummel kit 35367. £45.99 includes 3 figures.
NewTamiya Colours XF88 = Dark yellow 2. XF89 = Dark Green.  XF90 = Red Brown.
June 19/20
Dragon 1/35 combi kit - Sd.Kfz 10 Demag 10 with 10.5cm FH18/40  £79.99

Revell 50th Anniversary Apollo kits.
03704 1/96 Saturn V Rocket 114cm high £89.99
03700 Columbia and Eagle £16.99
03701 Lunar Lander module £49.99
03702 Apollo Astronaut on the moon £29.99
03703 1/32 Apollo ship with interior £49.99
June 6
Minicraft Hobby Drill with Transformer £41.95
Angle chopper for Plastic, Balsa and thin Ply £14.86
Bare metal foil in Chrome, Chrome ultra bright and aluminium £7.39
Bare Metal scribe £11.35
June 2 ( sorry skiped updates in May :)  )
Wide range of New AOSHIMA kits in store:-
1/72 JGSDF Type 10 MBT £19.99..  1/72 JGSDF Heavy Semi Transporter w/ Trailer with Type 10 MBT MBT Load £44.99..  1/72 JGSDF 3.5 Ton Fuel Truck £19.99..   1/72 PAC-3 Patriot Launcher £34.99.. 1/72 JGSDF Observation Helicopter £29.99.. Same with Tow Tractor- £39.99.
1/24 Knight Rider 2000 KITT in Super pursuit mode.
1/48 ARMSLAVE GERNSBACK Mecha £42.99
1/12 Police KAWASAKI KZ1000 motorbike £39.99..
1/24 MG-B Mk2 1968 £29.99.. 1/24 MG-B Mk3 1974 £29.99
1/24 Mitsubishi V24 PAJERO £29.99.. 1/24 PAGANI HUAYRA ( export edition) £44.99.. 1/24 Lamborghini Huracan LP610-4 (export edition) £44.99.
April 23rd 2019:- in HO/00 from Kibri 38533 4x 29.5cm high electricity pylons. Simple glue construction £22.75
39840 Electric sub station with pylon. £52.75. Model includes fence and block house, pylon and transfomers. Working floodlights and flashing arcing lights by LEDs.
April 22:  Hope you've had a nice Easter, some updates that should have been posted earlier this month.
STARWARS by BANDAI
1/72 X-Wing £29.99
1/48 Snowspeeder £29.99
1/72 TIE Fighter £29.99
1/144 Slave 1 £39.99
1/48 AT-ST £29.99
1/144 AT-AT £49.99
Tamiya kits. 1/35 MARDER III M on Normandy Front with 5 figures £36.99.        1/35 SHERIDAN light tank, Vietnam war. £44.99    1/24 Ford GT £39.99.   Re-stocks of old favourites. 
Zvesda 1/48 Yak-130 Russian light attack aircraft and trainer. £34.99
Zvesda 1/144 A-50 'Mainstay, AEW Aircraft £29.99
02 March 19:  Round2 / MPC Space 1999 Hawk £44.99
Atlantis AMC-1002  Triangular UFO £15.99
Meng Toon Panzer IV £12.99
05 Feb 19:  New Trupeter models.
03227 Warhawk P-40F  £59.99 1/32 scale.
05354 Schleswig - Holstein Battleship £74.99
05806 L-39 Albatros 1/48 £39.99
07148 T-62 BDD Mod 1984 Main Battle tank 1/72 £14.99
09538 SdKfz8 DB9 Halftrack prime mover for German Artillery £49.99
09539 Tiger 1 Med Production with Zimmerit 1/35 £39.99
Academy Panther G new tool £30.99
25 Jan: Modelcollect. 1/72. S-400 Missile launcher restock £29.99,  A-222 Berg Mobile coastal defense gun £43.99 and new 'Fist of War' Heer 46.  'BLF-100 Light Fighting Mech £15.99  ( 4 in a box!)
25th Jan 19: Re-stocks on all MR METALS paints, still £3.00 per jar.  Self Levelling thinner also as well as MR PUTTY and MR SURFACER. (Putty and surfacer £5.50)
Simple new device - MR ALMIGHTY CLIP STICK MINI, a small crocadile clip on a stick for holding parts. 36 for £9.95
TAMIYA new tool SHERIDAN £44.99
21st Jan:   Revell re-stocks plus new kits.
05232  Paddle Steamer GOETHE gift set £49.99
03279 1/35 Panzerhaubitz £29.99
Revell Catalouge Just £2.99
03280 M40 GMC £7.99. This 1/76 kit is the old Matchbox kit, but still a nice model which includes a base.
03885 Nieuport 17 in 1/48.  I believe this is the Eduard kit so you get a very nice model for £17.99
17 Jan: 2nd set of Takom 1/35 FRIES KRAN deliveries £49.99. ( First delivery all went out to pre- orders).  This is a great kit that will be useful to WWII diorama builders.  The £99.99 combi kit of a surprise variant Panther plus the Takom FRIES KRAN in a sealed box has sold through but can be re-ordered.  Note: you get a Takom Panther, one of 5 types but it is a lucky dip which one as the box is internally sealed in grey plastic.
15 Jan 19:    32-007 Dumbleton Hall 'Hall Class' 00 scale Loco by Bachmann in GWR Green.  RRP £159.95 our price £135.99.
EFE Latest 00 Bus £34.95 'Catford number 75' AEC RT.
17 restock lines from Woodland scenics including all Lubes.
     WE still have a few HONG KONG models 1/32 Lancasters left after the pre- Christmas rush.   Also to go with it the HOBBYBOSS 1/32 Liberator.