Please telephone the shop to order any item that appears on the following list subject to availability.  We will dispatch telephone orders within 24 hours or advise accordingly. 
New Item now in Stock

Gypsum Plaster Busts by Modern Souvenir Co
Figure painters have traditionally looked to Metal or Resin as a medium for their figures or busts, with the expected high price that goes with it.  Plaster is a medium often encountered in diorama bases, buildings or groundwork.  It may be thought of as an unsuitable product for detailed figures, yet historically Plaster of Paris is the preferred medium of sculptors' and artist's casting sculptures and reliefs.
Salisbury Model centre stocks a series of British Heritage subjects, not just military that are about 13cm high, I approximate this at 1/9 scale.  The plaster used is British fine Gypsum Plaster which gives a hard surface that captures detail well and when rubbed does not give of any powder residue.  The best thing about being made from Plaster is the difference in price from what you'd expect to pay in Resin. Even a single 1/35 figure in resin is about £10.00 with larger pieces going for £35 to £40 pounds. These are much more affordable at £23.00. As well as the head bust, each one has a series of cameos arranged around the base that illustrate the life and times of each figurehead. The Duke of Wellington for example has tiny soldiers of the 95th, horse and canon, a furled flag and guards. The final supporting base has an inscription.
These busts take acrylic and enamel paint very well and I have no doubt that oils will be suited too.  There are no painting guides included so some research is required but as all the subjects are famous there is no shortage of reference material.
 I chose Wellington to paint and after checking for defects no air bubbles found, no mis-cast areas. I primed the piece in Army Painter black except for the face which I primed in Vallejo Air Mahogany brown. I built up layers of colour using Vallejo Basic flesh, Radome tan, white, bright red and grey all applied through my airbrush.  The bright red was also airbrushed in layers to get tonal variation for his jacket. The final airbrushed area was an over spray of dark grey into the recessed areas of hair, then with a little maskol on the temples, a light blast of white to show some greying of his hair.
The remaining paint work was all done by brush.  The cordage was painted Humbrol enamel gloss Service Brown , then overpainted with brass followed by gold to give the lighter high points.  Army painter Dark tone Ink shade was lightly touched along the cordage to neaten any lines, this was repeated on his collar's gold embroidery.  Fine brush work gave Wellington some wrinkles around the eyes and frown lines. Very light stippling darkened his jaw line and side burns as well as to darken the eye brows.  The eyes were done in dark green with black pupils.  Unlike resin models these busts have the iris and pupil sculpted which ensures no 'boss eyed' look.
 The range includes,  Queen Victoria, Queen Elizabeth the II, Hadrian, Sherlock Holmes, Queen Elizabeth 1st, Churchill, Duke of Wellington, Nelson, Brunel and William the Conqueror. Plus a number of others with new items released approx every 6 months.  Each one is £23.00.

VALUE AIRBRUSH SET
I've always been cautious about low priced Airbrush set ups but after testing the EXPO set for a while and getting good results I am happy to offer these sets along side our IWATA items. For £89.95 you get everything you need except paint and thinner to get you started. Read a full review on Kitmaker Net by clicking the review link below.
TRACK CHORES.
Some modelers love assembling individual track links, others hate it and would rather replace with Vinyl.  SMC can offer help with both as we have an extensive range of both individual plastic replacement tracks and replacement Vinyl band track too.
GREAT NORTH ROADS

A recent article on Armorama focusing on the excellent Great North Roads (GNR) plaster diorama buildings that are stocked but SMC. These heavy items are available on line, but incur steep postage prices due to weight.


WE SELL WOODEN BASES, in various sizes, MDF and real wood, Varnished and plain. We can make MDF bases to any size. Real wood dependant on size can also be done to customers measurments.

LIFECOLOR BOX SETS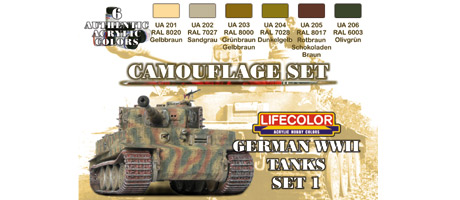 The most accurate way to finish your model, 'lifecolor' sets are matched to the exact paint shades used on the real vehicles.  When thinned these acrylics will airbrush beautifully laying down thin coats quickly, used with a conventional brush 'lifecolor' goes on thinly so no detail is lost but light colours will need the application of two coats. The thin consistency means brush marks are almost non-existent. The German set illustrated above has RAL colours, with the designation as used by the Reich Ministry when ordering the employment of colour schemes on German vehicles.  
German WWII Tank set 1 includes:
UA 201 Gelbbraun RAL 8020
UA 202 Sandgrau RAL 7027
UA 203 Grunbraun/Gelbbraun RAL 8000
UA 204 Dunkelgelb RAL 7028
UA 205 Rotbraun/Schokoladen Braun RAL 8017
UA 206 Olivgrun RAL 6003
Other sets use colours matched to FS numbers- Federal standard, the US paint colour designation.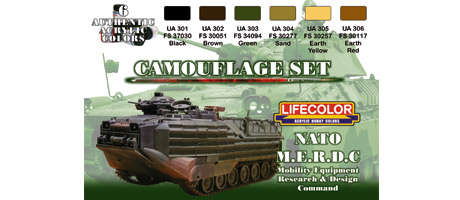 This set  is ideal for modern NATO vehicles and includes:
UA 301 Black FS 37030
UA 302 Brown FS 30051
UA 303 Green FS 34094
UA 304 Sand FS 30277
UA 305 Earth Yellow FS 30257
UA 306 Earth Red FS 30117
Other sets available in store and to Order.
LATEST ARRIVALS IN STORE
feb 11 AOSHIMA Kits
1/12 Kawasaki Z750f £19.99
1/24 Toyota Hi-Lux £23.99
1/24 Nissan S30 Fairlady
1/12 Yamaha Vmax £27.99
Feb 07Massive 1/200 scale Titanic from Trumpeter, includes LED lighting set with USB port connection. £399.99
371-988 NGauge Pannier Tank engine GWR 64XX BR lined green RRP £114.95  Our price £98.95
31-090DS 00 Gauge Digital sound 'Earl' 32XX 3206 RRP £259.95 Our price £225.95
Jan 29:  Streamlined Princess Coronation Class Loco plus 3 matching coaches, 2x First open and a 3rd brake. Combined price should be £259.98 Our price £232.49 The engine is well turned out in striking Silver and Blue. The 3 coaches are finished in the same colours applied to Railroad coaching stock.
Railroad 2 car set Class 43 HST 'Intercity ' with 2 coaches from Oxford Rail in matching Intercity livery. 1x Mk3a FO , 1x Mk3a TSO, giving a 4 unit set. Combined price should be £189.97 Our Price £170.00. The class 43 set has a powered car and dummy unit. Being from the Railroad range only the Power car has working lights. The Oxford Rail stock is highly detailed.
Happy New Year
New items have been arriving since the 5th of Jan, though Xmas stand downs and Stock takes by many manufacturers has meant some gaps in delivery. As always i'll consontrate on new items as the routine stuff such as paint and track is always being restocked.
25 Jan:- AOSHIMA
JGSDF Type 60 1/72 scale £16.99
JGSDF Type 12 1/72 scale £36.99
JGSDF Type 16 Armoured car 1/72 scale £26.99
1/24 MAZDA NB8C Roadcar £29.99
1/24 Sunaru Samba Fire Truck conversion £27.99
1/32 Truck kit ( with overt Japanese styling) 'Vengence Killer' £59.99
22 Jan:-
A07007A 1/72 'Motorhead'  He111 from Moorhead's Bomber albumn cover. £27.99
A01052v VINTAGE CLASSIC by Airfix - 1/72 Hawker Demon £5.09
A09189 1/48 Hawker Hunter F4/F5/J34 £38.99
A06019 Airfix 1/72 RAF Phantom FG.1 with 2 schemes. 111 Sqn 1989 and 43 Sqn 1974 £26.99
Oxford 76VOL08REC Volvo 'Boniface' Recovery truck in 1/76  £23.95
76LRFCA003 Landrover FC Ambulance -24 Field Ambulance Bosnia £10.95
76WM007 Whitby Mondial Ice Cream Van Piccadilly whip. £6.95
Classic 1/35 from Tamiya arrived 20th Nov.
35068 Cheiftain Mk5 MBT £19.99
35076 Land Rover Pink Panther £11.99
35146 Tiger I late £34.99
35147 Sdkfz 252/9 Kanonewagon £19.99
35177 38cm Sturmtiger £34.99
35190 US Sherman M4 Early £24.99
35210 British Churchill VII £24.99
35270 Sdkfz 222 with Etched parts £19.99
35366 M10 Achilles £39.99
35367 Hummel SPG Late £45.99
Revell Nov
00456 Imperial Star destroyer Technik £179.00
03285 Model T for 1/35 ambulance WWI £17.99
03310 1/72 Gigant SS100 and V2 on Launch tower trailer
03879 F-104G Starfighter 1/72 £17.99
05165 1/72 US patrol torpedo boat £24.99
07047 New tool 1/24 Land Rover Series III £29.99
03892 Tornado GR1 Gulf War 1/32 £49.99
03944 1/32 Mustang P51D £39.99

30th Oct.
Homefront Resin 1/35 Austin 7. A limited release from FOG after a long research and development. Contains Resin and Photoetched parts for skilled modellers. Special introductory price £48.99